Ingredients per sandwich: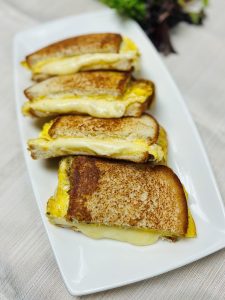 3 Eggs, Scrambled
1 Tbsp Butter
2 Slices of Bread
1 Slice Provolone
1 Slice Swiss Cheese
2 Slices American Cheese
Method:
In a large skillet, melt the butter over medium heat. Add the eggs and then lay the slices of bread next to each other. Once the eggs are nearly fully cooked, flip it all over, the eggs will stick to the bread. Layer on the cheese and fold the eggs over. Make a sandwich by taking one of the slices of bread and placing it on top of the other slice. Once toasted and the cheese has melted, serve and enjoy!