Ingredients: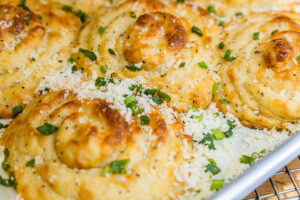 About 4 Cups of Potatoes, mashed
2 Tbsp Butter
1/4 Cup Heavy Cream
Salt and Pepper to taste
2 Eggs
1/2 Cup Parm Cheese
Method:
While the potatoes are still hot, add in the butter, cream and seasonings with a masher or in a mixer. Add egg one at a time and cheese until smooth.
Transfer the potatoes into a piping bag with a large star tip and pipe into 10-12 stacks on a sprayed cookie sheet.
Bake at 375 for 20 minutes or until golden brown. Serve and enjoy!