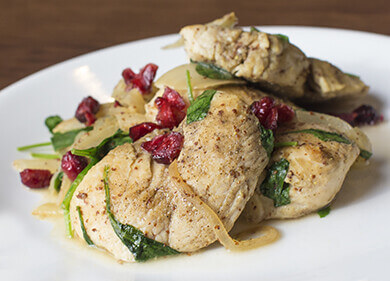 Ingredients:
2 Pounds of Fresh Chicken Breast Cut Into Cutlets
3 Tbsp Country Style Dijon Mustard
Olive Oil
!/2 an Onion Sliced Thinly
4-5 Garlic Cloves Minced
1 Tsp Poultry Seasoning
2 Cups Reduced Sodium Chicken or Turkey Stock
2 Cups Fresh Spinach
1/2 Cup Dried Cranberries
Method:
Marinate the chicken overnight in the mustard.
Heat a large skillet with a little olive oil. Sautee the onions and garlic for about three minutes. Add chicken to sear on both sides. Add broth and reduce to a simmer. Once all liquid is gone, and the chicken is cooked through, add the spinach and toss to wilt. Place on plates and garnish with dried cranberries for a touch of sweet! Serves 4
Enjoy!