Ingredients: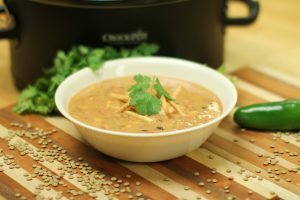 1 Bell Pepper, Diced
1 Medium Onion, Diced
1-2 Jalapenos, Diced
4 Garlic Cloves, Minced
15 oz can Black Beans, Drained and Rinsed
15 oz can Kidney Beans, Drained and Rinsed
3/4 Cup Dried Lentils
1 Cup Frozen or Canned Corn
15 oz Can Tomato Sauce
1 Quart Vegetable Stock
3/4 Cup Salsa Verde (Or regular salsa)
1 Tsp Smoked Paprika
1/2 Tsp Cumin
1 Tsp Chili Powder
1/2 Tsp Cayenne Pepper
1 Tsp Salt
8oz Cream Cheese
Method: Place all ingredients into a large crock pot except the cream cheese. Cook on high for 4 hours or low for 7. Turn the crock pot off and add in the cream cheese and stir until smooth.
Have fun with the toppings! Sour Cream, Cheese, Tortilla Strips!!