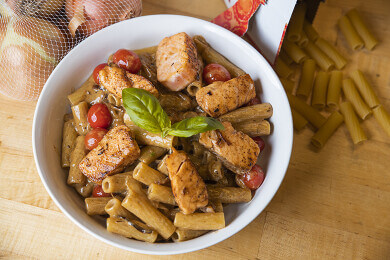 Ingredients:
1 Pound Pasta
8 oz Salmon Filet
Salt and Pepper
1 Yellow Onion Sliced
3-4 Garlic Cloves Minced
4 Tbsp Butter
1 Pint Heavy Cream
1 Pint Cherry Tomatoes
1 Tbsp Fresh Basil, Chopped
Method:
Cook and drain pasta according to package directions.
Slice salmon into chunks and season with salt and pepper. Melt butter in a large skillet, add onions and garlic. Sautee the onions until golden brown. Pan sear the salmon on each side. Remove the fish and set aside. Add the cream to the onions and bring to a simmer. Reduce down for about 5 minutes. Add tomatoes and basil and pasta. Toss to coat.
Place on plates and top with salmon. Serve and enjoy!