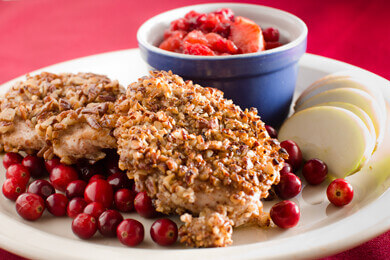 Pecan Crusted Chicken w/ Apple Cranberry Compote
1 1/2 Pounds Chicken Breast (4-5 oz breasts)
1 1/2 Cups Finely Chopped Pecans
3 Eggs
Salt and Pepper
Oil
Compote
2 Large Apples (cortland, empire, macintosh)
1 1/2 Cups Fresh Cranberries
Juice of Two Large Oranges
2-3 Whole Cloves
1 Tsp Cinnamon
1/8 tsp Salt
2 Tbsp Brown Sugar
Method:
Peel and core the apples. Slice into thin slices and place them in a
small sauce pot. Add the rest of the ingredients for the compote and
bring to a rolling boil for about 15-20 minutes. Reduce heat and check
the consistency. Continue to simmer as long as there is liquid in the
bottom of the pan. Remove from heat.
For the chicken, beat the eggs in a bowl, season the eggs with salt
and pepper to taste. Place the pecans in a separate bowl. Heat a large
skillet with a little oil. Dunk the chicken in the eggs to coat.
Remove excess eggs and press into the pecans on both sides. Place
chicken in the pan and brown on each side for 2-3 minutes being
careful not to burn the nuts. Transfer chicken to a baking pan and
bake at 350 for about 15-20 minutes or until chicken is fully cooked.
Serve the chicken with the compote on the side.