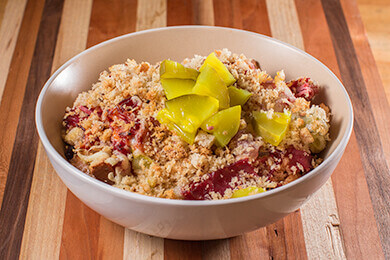 Ingredients:
1 1/2 Pounds Sliced Corned Beef
1 Pound Swiss Cheese Shredded
1 Loaf Seeded Rye Bread (sliced)
3 Tbsp Butter
1/2 Bottle 1000 Island Dressing
16oz Jar Sauerkraut (drained)
4-5 Dill Pickle Spears Chopped
Method:
Take about 6 slices of the rye bread and chop into bite size pieces. Take a 9×13 pan and place a tablespoon of butter in it. Place pan in the oven at 350 degrees for about 5 minutes or until melted. Spread butter all over the pan and place the cut up bread in the pan. Top with a little swiss and toast for another 10 minutes.
Slice the corned beef into smaller pieces.
Layer half of the corned beef on top of the bread, topped with half of the sauerkraut, half of the 1000 island, half of the cheese and half of the pickles. Layer the remainder of the ingredients and bake for 20 minutes at 350.
While that's happening, place 5-6 slices of rye bread in a food processor (or cut really finely if you don't have a processor). Melt 2 tbsp of butter and mix it in with the breadcrumbs.
Top the casserole with the breadcrumbs and toast for another 10 minutes or until golden brown.
Serves 4-6