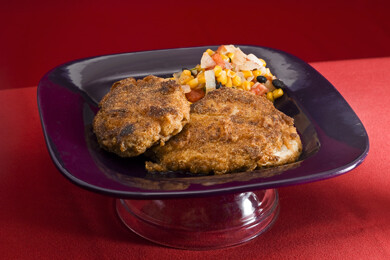 For the Chicken
Ingredients:
8 Boneless Chicken breasts
1 Cup Flour
1 Cup Corn Meal
1 Tbsp Poultry Seasoning
1 Tsp Paprika
1/2 Tsp Black Pepper
1 Tsp Salt
1 Tbsp Oil
2 Cups Milk
Method:
Heat oil in a large skillet. Combine all the dry ingredient and soak the chicken in the milk. Remove the chicken from the milk and coat the chicken in the flour mixture on both sides. Sear chicken in pan and brown on both sides. Cook on meduim low until chicken is fully cooked (165 degrees or above!)
For the Salsa
Ingredients:
About a cup of Black Beans Rinsed and Drained
1 Cup Frozen Corn
1 Tbsp Chopped Fresh Cilantro
1 Large Tomato Diced
1 Large Onion Diced
1/2 Jalapeno Seeded and minced
1 Tsp Salt
1/2 Tsp Black Pepper
1 Tbsp Oil
Method:
Heat Oil in a large skillet and add all ingredients. Cook for about 5 minutes on high until onions are tender. Serve warm or at room temperature.