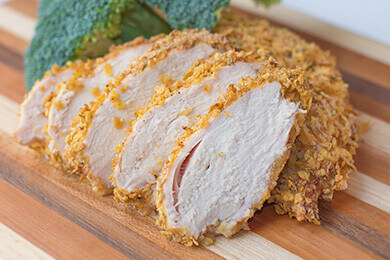 Ingredients:
1 1/2 Pounds Chicken Breast
1 Cup Milk
Salt and Pepper
6 Eggs
4-5 Cups Cornflakes
1/2 Tsp Paprika
1/2 tsp Powdered Garlic
1/2 tsp Oregano
1/2 tsp onion powder
Method:
Soak the chicken in the milk for about an hour. Season with salt and pepper.
Scramble the eggs and put them in a big bowl.
Smash up the corn flakes and combine them with the seasonings. Put the flakes in another large bowl.
Remove the chicken from the milk, dip them in the eggs and coat them evenly with the corn flakes. Place on a lined baking sheet and bake at 400 degrees for about 45 minutes or until chicken is thoroughly cooked through.
Serve and enjoy!