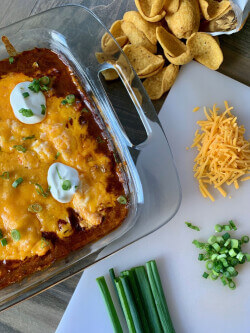 Ingredients:
2 Cans of Chili
1 Can Diced Tomatoes, drained
1 Package of Cream Cheese (softened)
1 Tsp Garlic Powder
1 Tsp Onion Powder
2-3 Cups Sharp Cheddar Cheese Shredded
Corn Chips
Method:
In a 13×9 Pan, spread out the chili, and top with tomatoes.
Whip cream cheese with the garlic and onion. Once smooth, add about a cup of the cheddar. Top the chili with the cream cheese mixture and top with the rest of the cheddar.
Bake at 350 degrees for about 30 minutes, until hot and bubbly. Serve with chips.