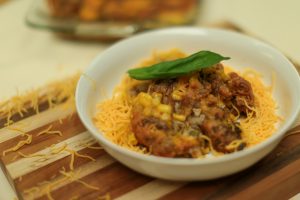 Ingredients:
1 28oz bag O'Brien Hash Brown Potatoes
2 Tbsp Butter
Salt and Pepper
1 25oz Bag Frozen Chicken Tenders
2 Cups Frozen Corn
2 10.5 oz cans Mushroom Gravy
2 Cups Shredded Cheddar Cheese
Method:
Spray a 9×13 pan with cooking spray and place the potatoes in. Top with butter and salt and pepper and bake at 350 for 20 minutes. Stir the potatoes and bake for another 10 minutes. Top the potatoes with the chicken strips and bake for 15 more minutes. Add corn and gravy and cheese. Bake until bubbly. Then serve and enjoy!