Ingredients: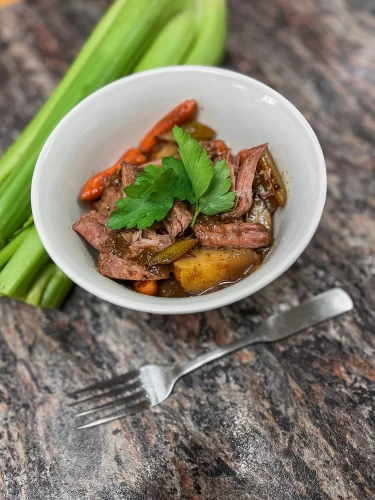 Approx 3.5 Pounds Beef Roast (I Used chuck roast)
1 Cup Flour
Salt and Pepper
2 Tbsp Olive Oil
4 Tbsp Butter
2 Cups Baby Carrots
4 Stalks Celery Chopped
1 Yellow Onion Chopped
2 Cups Red Potatoes Wedged
4 Garlic Cloves
2 Cups Beef Broth
1/2 Tbsp Montreal Seasoning
1 Tbsp Onion Powder
Method:
Season the flour with salt and pepper and dredge the beef in the seasoned flour. Heat olive oil and butter in a large pan and sear off the beef on all sides. Transfer the beef into a large slow cooker and add in the rest of the ingredients.
Cook on high for 5 hours or low for 9. Serve and enjoy!