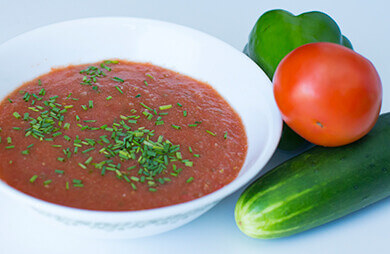 Ingredients:
1 Large Cucumber, Peeled and Diced
1 Large Green Pepper, Diced
3 Tomatoes, Cored and Diced
1/2 Vidalia Onion, Diced
1 Clove of Garlic
1 tsp Salt
1/2 Tsp Black Pepper
2 Cups Tomato Juice
1 Tbsp Red Wine Vinegar
2 Tbsp Extra Virgin Olive Oil
Hot Sauce
Chives
Method:
Place all veggies in a food processor or blender. Puree. Add salt, pepper, juice, vinegar, and oil and hot sauce to taste. Puree until smooth.
Refrigerate for two hours. Top with fresh chopped chives and serve!