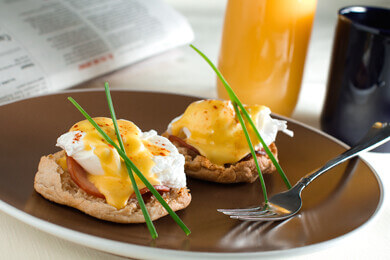 A traditional egg dish, from the famed kitchens of New York City, to your breakfast table!
Hollandaise Sauce
4 Egg Yolks
1 tsp Lemon Juice
1 Stick of Butter
Salt
Cayenne Pepper
For the Eggs
8 English muffins
Canadian Bacon
16 Eggs
Vinegar
Method:
To prepare the sauce, melt the butter and set aside to cool slightly. Bring a sauce pot with a few inches of water to a simmer. In a large stainless steel bowl, whisk the eggs and lemon juice vigorously for about two minutes until fluffy. Place on top of the simmering water pot making sure that the water does not touch the bottom of the bowl. Whisk vigorously for 2-3 minutes. DO NOT COOK THE EGGS. Add in the butter very slowly while still whisking. Remove the bowl from heat and whisk for another 1-2 minutes. Add a pinch of salt and cayenne. Set aside in a warm area
Split the muffins in half lengthwise. Place a piece of Canadian bacon on top of each muffin half. (You can use ham or bacon if you wish) Toast in a 350 degree oven for about 10 minutes
Bring another pot of water to a boil. Add about a tablespoon of white vinegar to the water. Gently crack the eggs into the boiling water. Boil for 2-3 minutes. Check the eggs to see if they are cooked, they should be soft boiled and a little gooey. Remove the eggs with a slotted spoon and place each on top of a muffin. Top with hollandaise and serve immediately!