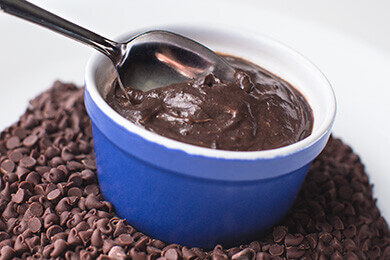 Ingredients:
1/3 Cup Cocoa Powder
1/2 Cup Sugar
1 1/2 Cups Milk
1/2 Cup Milk
1 Tbsp Vanilla
3 Egg Yolks
4 Tbsp Cornstarch
1/2 Tsp Salt
1/2 Cup Semi Sweet Chocolate Chips
1 Tbsp Butter
Method:
In a medium sauce pan, combine first listed milk, cocoa and sugar. Heat over medium heat stirring constantly until it simmers.
In a bowl, combine the remaining milk, vanilla, eggs, corn starch and salt. Pour the cocoa mixture into the egg mixture very slowly while whisking constantly. This is called tempering the eggs so they don't scramble.
Put the combined ingredients back into the sauce pan and bring to a boil while stirring constantly. Reduce to a simmer once thickened. Simmer while whisking for 2 minutes. Remove from heat and add the chocolate chips and butter. Stir until smooth.
Spoon into serving bowls and cover with plastic wrap. Plastic wrap should touch the surface of the pudding so the skin doesn't form. Refrigerate for at least 2 hours. Top with whipped cream and serve!
Makes 4 servings