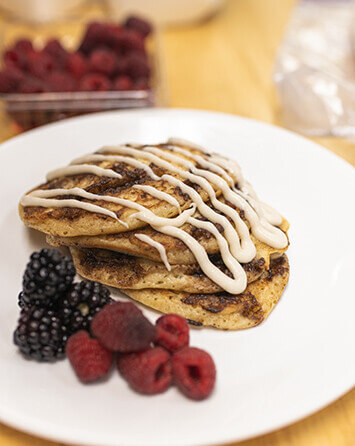 Ingredients:
Pancake Batter-
1 Cup Flour
2 Tsp Baking Powder
1/4 Tsp Salt
1/2 Cup 2% Milk
1/2 Cup Butter Milk
2 Tbsp Melted Butter
1 Large Egg
1 Tsp Vanilla
1/2 Tsp Cinnamon
Cinnamon Swirl-
4 Tbsp Butter, melted
1/2 Cup Brown Sugar
1 Tbsp Cinnamon
1 Tbsp Flour
Glaze-
2 Tbsp Butter, Melted
1 Cup Powdered Sugar
1/4 Cup Milk
Method:
Combine all the dry ingredients for the batter and then add the wet ingredients. Mix until combined, some lumps are ok. Do not over mix!
Combine all the ingredients for the swirl and place in a plastic baggie. Cut off one corner.
On a hot griddle, our out the pancake batter, Swirl in the swirl.
Once pancakes are cooked on each side, remove from pan and pour the icing over. Serve and enjoy!!