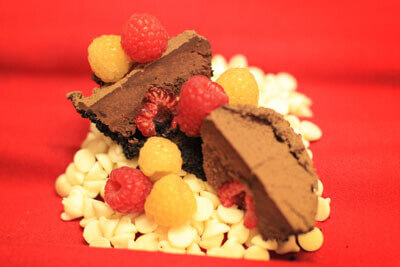 Ingredients:
1 cup chocolate crumb (ground choc wafer cookies)
6 Tbsp Melted Butter
½ Pint Fresh Raspberries Washed and Dried
½ Cup Heavy Cream
8 Ounces Bittersweet Chocolate, Chopped
1 Teaspoon Vanilla Extract
Cocoa Powder for Dusting
Method:
Cut strips of parchment the width of muffin cups in a muffin pan, leaving the edges out so that you can remove them later. Layer the strips inside the cups.
Combine chocolate crumbs and melted butter. Press inside the muffin cups and up the sides. Refrigerate.
Bring the heavy cream to a simmer in a heavy bottom sauce pan. Be careful not to burn. Pour it over the chocolate and stir to melt. Add vanilla and leave out at room temperature for about an hour. Mixture should be smooth.
With a mixer, beat the chocolate for about 4 minutes with a beater (hand held mixer or mixing bowl). Chocolate should be light brown and fluffy.
Place one raspberry in the center of each muffin cup. Scoop the chocolate mixture into cups and smooth the tops with a knife.
Refrigerate for about 2 hours until set. Dust top with cocoa and top with extra raspberries. Serve chilled.
Freezes well and can be made a couple days in advance!