Chocolate Peanut Butter Overnight Oats. Too busy to make a batch of oatmeal for breakfast? With this simple recipe, all the prep work is done the night before. Simply stir in a spoonful of peanut butter in the morning and enjoy.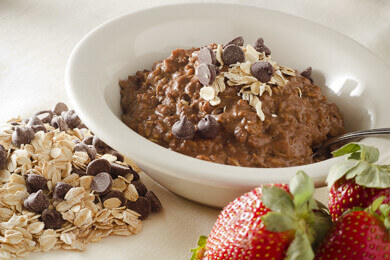 Ingredients:
serves 1 1/2 c. old fashioned oatmeal
1 c. almond milk
1/2 tbsp. cocoa powder
1 tbsp. peanut butter
1 tsp honey
Method:
Combine all ingredients except for peanut butter and the honey and let set in the refrigerator overnight. After refrigerating overnight, remove oats from fridge, heat in the microwave for about 2 minutes and stir in spoonful of peanut butter and the honey before eating.