"The culmination of all your favorite things!"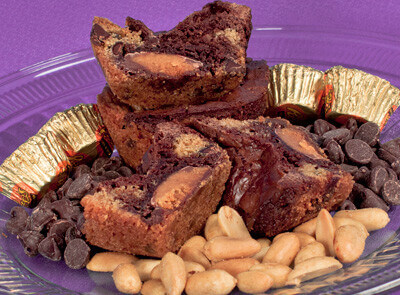 Ingredients:
2 Packages "Break and Bake" Chocolate chip cookie dough
1 Box Brownie Mix
Mini Peanut butter Cups
Method:
Mix Brownie mix as per recipe instructions. Spray 24 muffin cups (regular size) Place 1 and 1/2 cookies into the muffin cups and press them so that they come up the sides a little.
Place 1 peanutbutter cup in each muffin cup. Top with a heaping spoonful of brownie batter, covering the peanut butter cup. Bake at 350 degrees for about 20-25 minutes. Cool on a wire rack. Run a knife around the edge of each to remove. Serve to other people before you feel like you should devour them yourself!