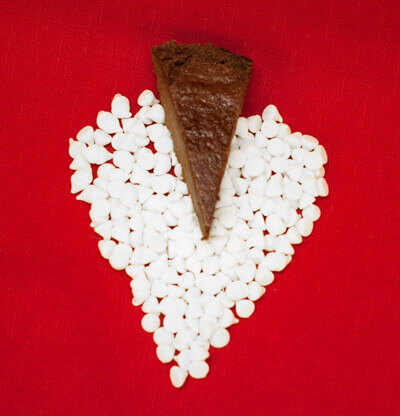 Ingredients:
1 pound semisweet chocolate chips, about 2 cups
1/2 pound (2 sticks) unsalted butter, cut into 1/2-inch cubes, plus 1/2 tablespoon
1/4 cup double strength coffee
8 large eggs
1/4 cup sugar
1 teaspoon vanilla
1/2 teaspoon salt
Method:
Preheat oven to 325 degrees. Using about half a tablespoon of butter to coat a 9 inch springform pan. Cut a parchment circle that fits the bottom of the pan and place that in the bottom of the cake pan. Wrap the outside of pan with foil and set aside.
Melt chocolate, butter along with the coffee over a double boiler until smooth. Reserve.
Combine eggs, sugar, vanilla and salt in a large bowl and beat with a hand mixer until frothy and nearly doubled in volume. Fold in egg mixture into chocolate by thirds. This helps to not cook the eggs.
Pour batter into prepared springform pan. Place pan in a larger roasting pan and add enough boiling water in the larger pan to surround the springform pan and half way up the sides. Bake at 325 for 40-45 minutes or until set.
Remove cake pan from water pan and place on a cooling rack. Allow to cool for about an hour and refrigerate until completely cool. Remove the side of the pan and invert the cake onto a serving plate. Carefully remove the bottom of the cake pan and paper liner. Dust with cocoa and powdered sugar if desired. Serves 12-14.