A quick, easy and fun way to enjoy your lunch! Give your meal a kick!!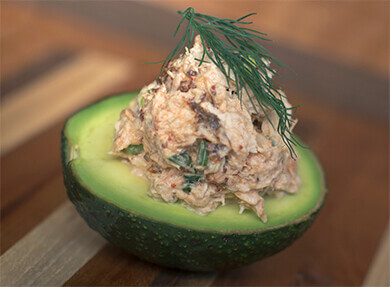 Ingredients:
2 5oz cans Solid White Albacore Tuna Drained
1 Celery Rib minced
2-4 Chipotle Peppers Minced
1 Scallion Chopped
1 Tsp Lemon juice
4 Tbsp Mayo
A couple sprigs of fresh dill
2 Avocado
Method:
Combine the tuna, celery, peppers, scallion, mayo and dill in a bowl. Half the avocado and remove the pit. Put tuna in the pit cavity and enjoy! The creaminess of the avocado and the spicy of the tuna go really well so make sure you eat the avocado with the tuna!