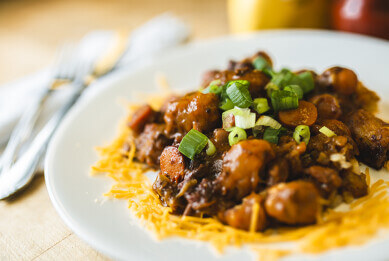 Ingredients:
1 Bag Frozen Tater Tots
1 1/2 Cups Chili (home made or canned)
1 Package of Hot Dogs cut up
2 Cups Shredded Cheddar Cheese
2 Scallions Chopped (optional)
Method:
Spray a 13×9 baking dish with pan release and place the tots inside. Bake at 350 for 20 minutes.
Top with almost all the cheese, saving some for the top. Combine the chili and the hot dogs and place evenly over the cheese. Add the rest of the cheddar on top of the hot dog mixture. Bake for another 15-20 minutes.
Serve and enjoy!