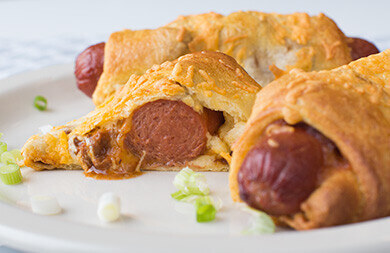 Ingredients:
4 Hotdogs
1 can of Chili
1/4 Cup Shredded Cheddar Cheese
1 Package of Crescent Roll Dough
Method:
Unroll the dough. Separate the 4 Squares and pinch together the triangle perforations. Place hot dog on the bottom of a square, top with a couple of spoonfuls of chili and some cheese. Roll up and place on in a baking pan. Repeat with the other three dogs. Make sure dogs don't touch each other. Top each with a little more cheddar.
Bake at 350 for 15-20 minutes. Serve and enjoy!!