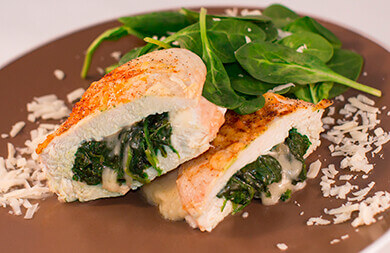 Ingredients:
2 Pounds Boneless Skinless Chicken Breast
10 Ounces (cups) fresh spinach
4 ounces Aged Provolone, Shreaded
2 cloves of Garlic
1/4 cup chopped Onion
Olive Oil
Salt and Pepper
Paprika
Method:
Pound out the chicken breasts and slice them horizontally. Leaving them connected on one side to make a pocket. Set aside
In a large skillet or pot, heat a little oil and add the garlic and onion. Cook on medium heat and stir often until onion is translucent. Add spinach, some salt and pepper, and cook until wilted. Drain very well.
Add spinach mixture to the cheese and toss to combine. Stuff the chicken. Top with a little extra cheese, salt, pepper and paprika.
Bake at 350 degrees for 30-40 minutes or until the chicken is fully cooked. Allow to rest for a few minutes, then serve and enjoy!