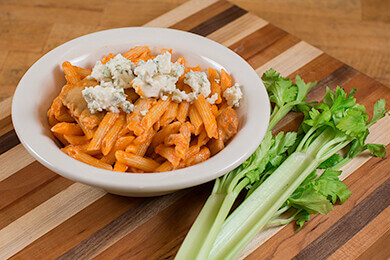 Ingredients:
2 Pounds Raw Chicken Wings
1 Tbps Salt
1 Tsp Chili Powder
1/2 Tsp Cayenne
1/4 Tsp Black Pepper
1 Pound Pasta
1 Tbsp Butter
1/4 Cup Parmesean Cheese
2 Tbsp Milk
1/4-1/2 Cup Franks Hot Sauce
2 Tbsp Ranch Dressing
Blue Cheese Crumbles
Methods:
Thaw, drain and dry the wings. Coat in seasonings. Heat a large pot or skillet and brown the wings on all sides. Add enough water to cover the wings and boil for 25-30 minutes. Remove the chicken from the pan and de-bone the wings, removing as much skin as possible.
In another pot, cook the pasta to the directions located on the package. Drain. Add pasta back into the pot and add butter , milk, parm, hot sauce (1/4 cup for mild, 1/2 cup for med-hot), and ranch. Mix together until combined. Add in the chicken and serve with blue cheese on top!