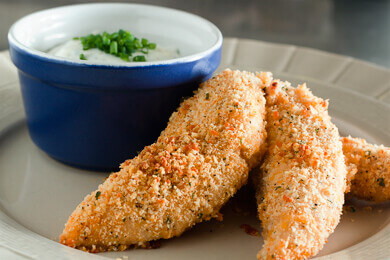 A delicious spin on an American Classic!
1 Pound Chicken Tenders (Raw, unbreaded)
1/2 Cup Milk
1 Sleeve of Ritz Crackers (About 3.5 oz)
1/3 Cup Cheddar Cheese
1/4 Cup Parmesan
1 tbsp Flour
1/2 Tsp garlic
1/2 tsp Salt
1/4 Tsp Black Pepper
1/4 Tsp Paprika
1/2 Tsp Parsley Flakes
Method:
In a large bowl, place the tenders in milk. Season with salt and pepper and set aside.
In a food processor, pulse crackers until finely chopped. (smashing in a plastic bag is more than ok if you don't have a processor). Add cheeses and pulse to combine. Add flour and seasonings.
Remove chicken one at a time and bread them individually in the cracker mixture. Place on a baking sheet that has foil and has been sprayed with pan spray. Sprinkle remainder of cracker breading on top of chicken.
Bake at 425 for about 25 minutes. Serve and enjoy!!