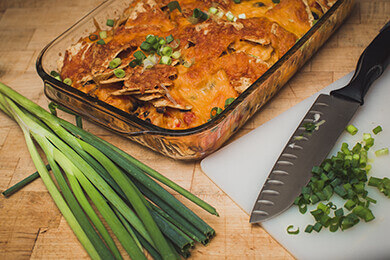 Ingredients:
3 Cups of Shredded Chicken
2 Cans Cream of Chicken Soup
1 Can Black Beans Drained and Rinsed
1 Can Diced Tomatoes and Chiles
1 Packet of Taco Seasoning
1/2 Cup Sour Cream
2 Cups Shredded Cheese, Divided (I used Sharp Cheddar)
Tortilla Chips
Method:
Combine Chicken, soup, beans, tomatoes, taco seasoning, sour cream and 1 cup of the shredded cheese
In a 13×9 baking dish, spray the bottom and place a layer of tortilla chips covering the bottom. Spread the chicken mixture over the chips. Add more chips on top and sprinkle with remaining cheese.
Bake at 350 degrees for about 20 minutes, or until bubbly. Serve and enjoy!
Serves 4-6