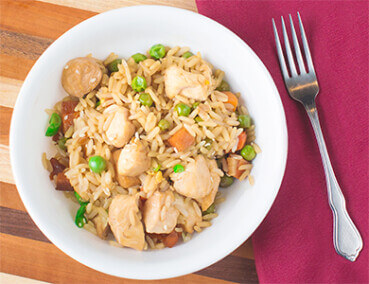 Ingredients:
1 Cup white or brown rice
2 Cups Water
1 Tbsp Canola Oil
1/2 Tsp Sesame oil
1 Pound Chicken breast cubed small
2 cloves of garlic minced
2 Eggs, scrambled
1/2 tsp Dry ginger
1 Pound Frozen Peas and Carrots
1 Scallion Sliced
1/4 Cup Soy Sauce
1 Tbsp Sesame Seeds
Method:
In a small pot, Combine rice and water. Simmer, cover and remove from heat once cooked.
In a large sautee pan, heat the oils over high heat and cook the chicken and garlic. Sautee over medium heat for about 10 minutes, stirring often. Add eggs and scramble until cooked. Add Peas and carrots, cooked rice, scallion, soy sauce and sesame and toss until combined.
Serve and enjoy!