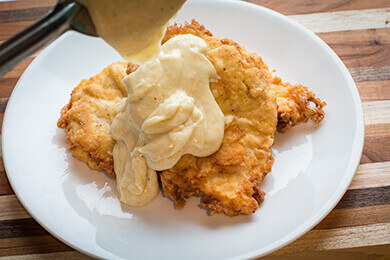 Ingredients:
2 Pounds Boneless Skinless Chicken Breast
1 Cup Heavy Cream
1 Cup Ranch Dressing
2 Cups Flour
1 Tsp Salt
1 Tsp Garlic Powder
1/2 Tsp Chili Powder
1/4 Tsp Cayenne Pepper
3 Large Eggs
1 Cup Milk
Oil or Shortening to fry
1 Stick of Butter
3/4 Cup of the flour you used to bread the chicken
2 Cups Chicken Stock, Cold
1 Cup Milk
Salt and pepper to taste
Preparation:
Halve the chicken breasts and pound them out so that they are thin. "Marinate" in the heavy cream and ranch dressing for at least a couple of hours. Preferably over night.
Combine the flour and spices in a large bowl. Set aside. In another bowl, combine the milk and the eggs with a whisk until mixed well.
Heat oil in a cast iron pan, fryer or heavy pan. You should have enough oil to come halfway up the chicken.
Remove a piece of chicken from the marinate, letting the marinate to drip off. Dredge in the seasoned flour. Shake off and place in egg mixture. Shake off and return to flour mixture.
Place chicken in oil and cook until golden brown on each side. Make sure that you do not over crowd your pan, you may have to do a couple of rounds. Remove the chicken from the pan and drain on paper towels
For the gravy, melt the butter in a small sauce pot. Add seasoned flour mixture to butter and whisk together until smooth to make a roux. Add cold chicken stock (this will minimize lumps) and whisk. Add milk and adjust seasonings as needed. Pour over chicken and serve!