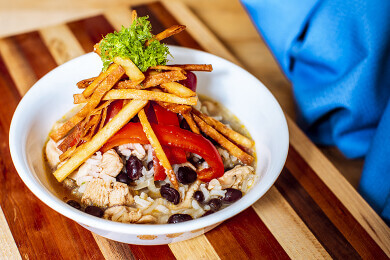 Ingredients:
1.5 Pounds Chicken Breast Sliced thin
1 Red pepper Sliced Thin
2-3 Cloves of Garlic Minced
1/2 Vidallia Onion Sliced Thin
2 Quarts Chicken Stock
1 Tbsp Chili Powder
1/2 Tbsp Cumin
1/2 Tbsp Garlic Powder
1/2 Tsp Cayenne Pepper (If desired)
1/2 Tsp Paprika
1 Cup Raw White Rice
1 11oz can Black beans Drained and rinsed
Zest of 1 Lime
Canola oil
Soft Flour tortillas
Salt
Method:
In a large pot, saute chicken, pepper, garlic and onion. Brown the meat for about 10 minutes. Add chicken stock and seasonings. Bring to a simmer and add the rice. Simmer for about 10-15 minutes. Add beans and remove from heat
While the soup is cooking, heat oil in a large skillet or fryer. Cut tortillas into small strips and fry them in the oil. Remove from oil once golden brown, about 30 seconds, and drain on a paper towel. Season with salt
Add lime zest to soup. Serve in bowls and top with tortilla strips.