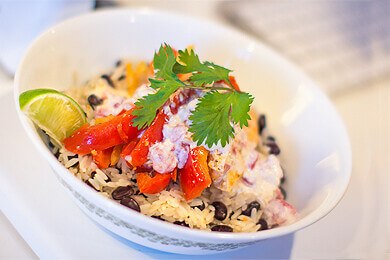 Tired of those freezer meals packed with sodium and preservatives? Give this a try!
Ingredients:
1/2 Pound Chicken Breast Cooked
1 Red Pepper cut into strips
1 Onion cut into strips
2 cloves of garlic minced
Oil
1 Tsp Taco Seasoning
1 Cup uncooked rice
2 Cups water
1 15oz can black beans drained and rinsed
1 10 oz can diced tomatoes with green chili
1/3 cup sour cream
1 cup shredded Monterrey jack cheese
1 Lime
Fresh Cilantro
Method:
In a large skillet, heat a little oil over high heat and saute peppers, onions, chicken and garlic. Add taco seasoning and cook until peppers are tender. Remove from heat
Cook a rice in a pot with water. Fluff with a fork when done. Add beans and stir in. Add juice from half of the lime.
In another pot, put diced tomatoes and sour cream. Bring to a simmer and add the cheese until melted. Add juice from the other half of the lime
Place rice in a bowl. Top with chicken and peppers, then with sauce. Top with some fresh cilantro. Pop it in the fridge for work the next day, or eat right away. Makes 2-4 bowls