Ingredients: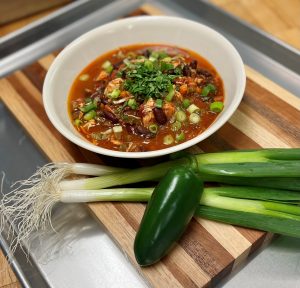 1 Yellow Onion, Diced
1 Bell Pepper, Diced
1 Jalapeno, Seeded and Diced
2 Ribs of Celery, Diced
1 Carrot, Diced
4 Garlic Cloves, Minced
1 1/4 Pounds Fresh Chicken Tenderloins
1 6oz Can Tomato Paste
4 Cups Chicken Stock
2 14.5oz Cans Fire Roasted Diced Tomatoes
1 Tsp Salt
1 Tsp Black Pepper
1 Tbsp Cumin
1 Tbsp Chili Powder
1 14oz Can Black Beans, Drained and Rinsed
1 14oz Can Kidney Beans, Drained and Rinsed
Fresh Cilantro, Scallions, Cheddar Cheese, and Sour Cream for Garnish
Method;
In a large pot, heat the olive oil and sautee the onion, peppers, celery, carrot and garlic. Cook for about 5 minutes and add in the chicken. Once chicken is cooked, add in the tomato paste, stock and tomatoes. Bring to a simmer and put the seasonings in. Stir to combine and simmer for 30-45 minutes. Soup should thicken. Add in the beans and simmer for another 15 minutes.
Top with your favorite garnishes and enjoy!