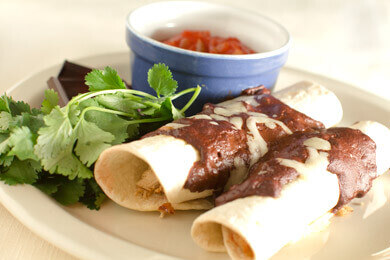 Enchiladas
2 Large Chicken Breasts
10 Flour Tortillas
1/2 Tsp Cayenne Pepper
1 Cup Shredded Monterey Cheese
1/4 Cup Salsa
Mole Sauce
1 1/2 Cups Chicken Stock
1 Tsp Mexican Chili Powder
2 Tbsp Chipotle Pepper Puree
1/2 Tsp Garlic
1/4 Tsp Black Pepper
4 Oz Unsweetened Chocolate
1 Tsp Flour
Dash Cinnamon
Method:
Boil the chicken for about 30 minutes, drain and shred the chicken. Combine chicken with the salsa, cheese and seasonings. Refrigerate and cover
Bring the stock to a boil. Add chipotles, chili powder, garlic, and pepper. Reduce to a simmer and add in chocolate, stirring occasionally. Add flour and continue to simmer for about 20 minutes or until thick. Remove from heat and hit it with a dash of cinnamon.
Place chicken meat in the tortillas and roll tightly. Arrange in a baking pan against each other and bake at 350 for about 10 minutes. Cover the enchiladas with the sauce and bake for an additional 5-10 minutes.
Serve with rice and beans for an authentic taste of South of the Border