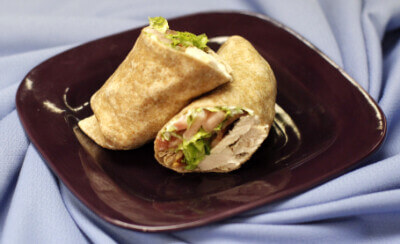 Ingredients:
Mayo:
About 4 or 5 Fresh garlic Cloves
1/2 Tsp Salt
1/4 cup canola oil
1 Cup Mayo
Cracked Black pepper and salt to taste
Wrap:
1 Head of Romaine lettuce Shredded
2 Beefsteak tomatoes sliced
8-12 Bacon strips of crispy bacon
4 Tortillas (10″ or bigger)
About a pound chicken breast
Method:
Season chicken breasts with your favorite seasonings (I suggest the rub for Nick's BBQ Chicken) Grill until fully cooked. Slice and cool
Coat Garlic cloves with oil and season with first listed salt. Place in a shallow pan and roast for about 20 minutes at 350 degrees until golden brown and soft. Drain oil and discard. Mash garlic cloves and combine the rest of the ingredients. Reserve
Lay the tortilla wrap flat and spoon about a tablespoon of mayo over the bottom half. Place sliced chicken, lettuce, bacon and tomatoes on the mayo. Roll burrito style, slice and serve!
Serves 4