Ingredients: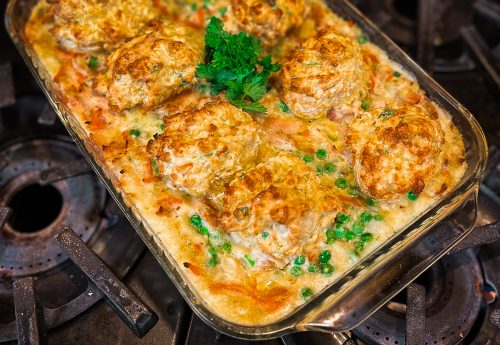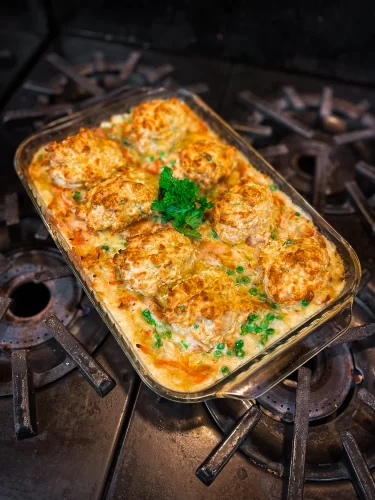 1 Cup Diced Onion
1 Cup Diced Celery
1 Cup Diced Carrots
2/3 Tbsp Butter
1 Tsp Salt
1/4 Tsp Black Pepper
1/2 Cup Flour
1 Cup Heavy Cream
2 Cups Chicken Stock
1 Tsp Dried Thyme
1/2 Tsp Dried Rosemary
4 Cups Cooked Shredded Chicken
1 Cup Frozen Peas
2 Cups Bisquick
3/4 Cup Cold Milk
1/2 Cup Shredded Cheddar Cheese
2 Tbsp Fresh Minced Parsley
1 Tsp Garlic Powder
2 Tbsp Butter
Method:
In a large skillet, melt the butter and sautee the onions, celery and carrots for about 5 minutes. Season with salt and pepper and stir in the flour. Whisk together the chicken stock and the heavy cream and pour slowly into the pan while whisking. Bring to a simmer and add the herbs. Stir in the chicken and peas and pour into a 9×13 pan that has been sprayed. Cover the pan in foil and bake at 425 for 10 minutes.
While that's cooking, mix together the biscuit mix, milk, cheese, parsley and garlic. Spoon over the chicken dish and return to the oven, uncovered, for 10-15 minutes. Melt the butter and pour over the biscuits. Serve and enjoy!