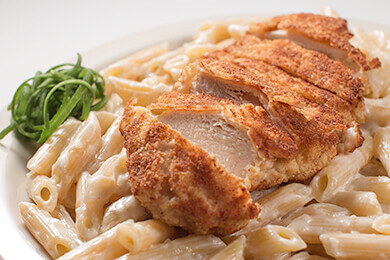 Ingredients:
1 1/2 Pounds Boneless Skinless Chicken Breast
2 Cups flour (seasoned with salt and pepper to taste)
4 Eggs whisked
2 Cups Breadcrumbs
1/3 Cup Grated Parmesan Cheese
2 Tbsp + 2 Tbsp Butter
2 Tbsp Minced Garlic
1/2 Cup Chicken Stock or White cooking wine
3 Cups Heavy Cream
3/4 Cup Parmesan Cheese
1 Pound Penne Pasta Cooked and Drained
Method:
Dredge the chicken breast in the flour, then egg, then breadcrumbs. Melt 2 Tbsp butter in a skillet and brown chicken on both sides. Finish in the oven at 350 degrees until fully cooked (165 degrees)
In a large pot, melt remaining butter. Sautee Garlic in butter for 2 minutes. Add stock/ wine and bring to a simmer. Add cream and bring to a simmer. Reduce heat to simmer for about 5 minutes. Stir in cheese and bring back to a simmer. Remove from heat.
Toss cooked pasta with sauce. Top with chicken and serve!!
Serves 4-6
Visit site60.webdnx.net/nicks-picks for more Nick's Picks.