A classic traditional accompaniment to your turkey!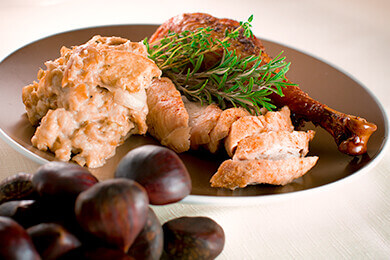 Ingredients:
1 Stick of Butter
2-3 Garlic Cloves Minced
4 Ribs of celery diced
1/2 an Onion Diced
12 Cups of Fresh Bread Cubes
8 Cups Chicken Stock
About 12 Roasted Chestnuts Chopped
1 Sprig of Fresh Rosemary (destemmed)
1 Sprig of Fresh Thyme (destemmed)
4 Eggs
1 Tbsp Salt
1 tsp Pepper
1 Tbsp Poultry Seasoning
Method:
Sautee the garlic, onion and celery in the butter until translucent. Add chicken stock and bring to a boil. Add bread and chestnuts, stir. Bring back to a boil, then remove from the heat. Transfer the mixture to a bowl and refrigerate until cool. (up until now, you can do all of this the day before!)
Stir in the egg and seasonings and bake at 350 uncovered for about 20-30 minutes.