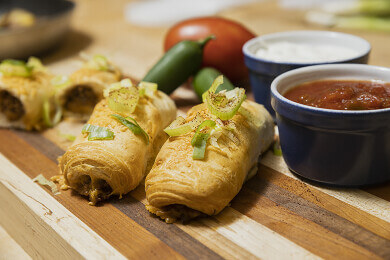 Ingredients:
1 Pound Ground Beef
1 Can Mild Green Chiles Diced
1 Packet Taco Seasoning
1 Rolls Biscuit Dough
2 Cups Shredded Cheddar Cheese
Method:
Brown the meat and drain. Add the chile peppers and seasoning. Add 1/2 cup of water and simmer until water has dissolved. Set aside.
Pop open the biscuit cans and lay out the biscuit rounds. flatten them out with the palm of your hand. Spoon out the meat on each biscuit across the center. Top with cheese. Roll them up!
Place on a sheet tray spaced an equal space apart for rising. Bake at 350 degrees for 15 mins or until golden brown.
Serve and enjoy!