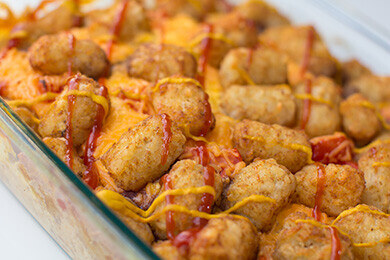 Ingredients:
2 Pounds Extra Lean Ground Beef
1/2 Onion Chopped
1 Plum Tomato Chopped
1 Cup Sour Cream
1 Can Cheddar Cheese Soup
1 Cup Shredded Cheddar Cheese
1 Bag Tater Tots
Method:
In a 13×9 baking dish, press the ground beef evenly to cover the bottom. Top beef with onions and tomatoes. Season with salt and pepper. Combine soup and sour cream and spread it over the beef. Top with cheese and cover with tater tots.
Bake at 400 Degrees for about 30 minutes. Tots should be crispy on top, beef should be fully cooked.
Serve with ketchup and mustard to complete the dish!