Take everything you know about chili, and throw it out the window!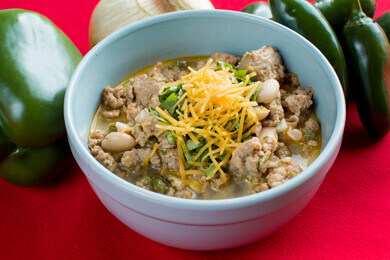 Ingredients:
1 Green Pepper Diced
3 Jalapenos Diced, Seeded
1 Onion Diced
Oil
3 Pounds Ground Turkey
Salt
Pepper
2 Cans Cannellini Beans (15.5 oz each)
8 Cups Chicken Stock
1 tsp Poultry Seasoning
1 Tbsp Chili Powder
3 Cups Shredded Cheddar Cheese Plus more for garnish
Fresh Cilantro
Method:
To make this delicious chili, sautee the peppers and onions in a little oil for about 5 minutes. Add turkey and brown. Season with salt and pepper to taste and cook turkey trough. Add chicken stock, beans and seasoning. Let simmer for about 30 minutes. Remove from heat and stir in cheese until melted. Garnish with fresh cilantro and cheddar!