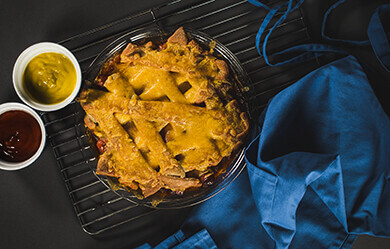 Ingredients:
1 Can of Chili (or Two cups of homemade chili)
4 Hot Dogs Quartered
1 Prepared Raw Pizza Dough
1 Cup Cheddar Cheese
Method:
Place the chili in the bottom of a baking dish (I used a pie pan) and arrange hot dogs over the top. Slice pizza dough into strips and layer on top of the hot dogs. Bake at 350 for 25 minutes. Top with cheese and bake 5 minutes more until cheese is bubbly.