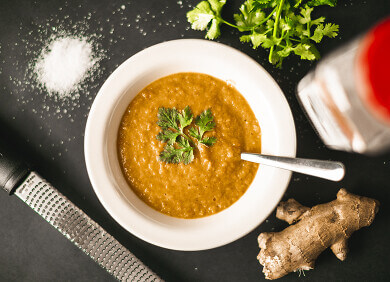 Ingredients:
1 Medium Onion Diced
1 Can 13.5 oz Coconut milk
1 Clove of garlic Minced
Salt
12 ounces of carrots chopped
2 3/4 Cups Vegetable Broth
Juice of one lime
1 Tbsp Curry
1 Tbsp Chopped Fresh Cilantro
2 Tbsp Grated Fresh Ginger
Method:
In a large pot, place about a third of the coconut milk, onions, garlic and a tbsp of salt. Bring to a simmer and cook for about 5 minutes.
Add the remainder of the ingredients. Bring to a simmer and cook for another 30 minutes. Carrots should be very soft.
Place soup in a blender or food processor and blend until smooth.
Serve hot and enjoy!
Serves 4-6