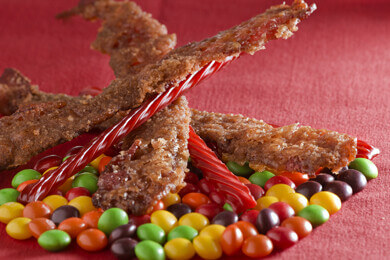 Ingredients:
1 Pound of Bacon
2 Cups Brown Sugar
1/4 Cup Pecans
Method:
Take a cooling rack and place it over a rimmed cookie sheet or sheet tray. Arrange bacon on top of the cooling rack and bake at 375 degrees for about 10 minutes. Bacon should just be starting to crisp
In a food processor, pulse the brown sugar and pecans until pecans are ground very finely.
Remove bacon from the oven and flip each strip. Top each piece of bacon with the sugar mixture very generously. Pat the sugar down, there should be about a 1/4 inch of sugar
Bake for an additional 10 minutes. Bacon should be crispy and sugar will caramelize.
Remove and cool. Serve as is, on top of salads, or even as an ice cream topping!