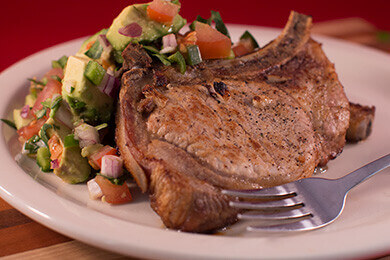 Ingredients:
4 Bone in Pork Chops
2 Cloves of garlic
Salt and Pepper
3-4 tomatoes chopped
1/2 Red Onion Chopped
1/2 Jalapeño (or more or less!) Minced
2 Cups Fresh Spinach chopped
2 Tbsp Fresh Cilantro Chopped
Zest of one lime
1 Pepper Diced
1 Avocado Diced
Method:
Season pork chops with salt and pepper and garlic. Set aside
Combine the rest of the ingredients to make a fresh salsa. Set aside as well. Probably to the other side
Heat a pan with a little olive oil and sear the chops on both sides. Sprinkle with some fresh lime juice from the lime you zested. Finish cooking in the oven until fully cooked.
Top with the salsa and enjoy!