Cajun Catfish over Sautéed Onions and Tomatoes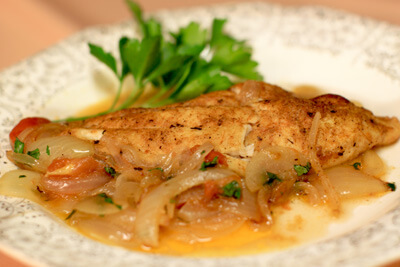 Well seasoned Catfishfilets, pan seared over sautéed onions and tomatoes
Ingredients:
4 Catfish Filets about 6oz Each
2 Large Yellow (Spanish) Onions Thinly Sliced
2 Large Tomatoes Thinly Sliced
Fresh Cilantro Chopped (about ¼ Cup)
Salt
Oil
Seasoning
1 Tbsp Salt
1 Tsp Black Pepper
1 Tsp Basil
1 Tsp Garlic Powder
1 Tsp Cumin
1 Tsp Paprika
1 Tsp Cayenne Pepper
Method:
Coat each catfish filet with seasoning mix on both sides. Heat a sauté pan with about 1 tbsp of oil. Once oil is hot place the catfish upside down and cook for about two minutes until golden brown. Flip fish over in pan and remove from heat. Remove fish from pan carefully and hold.
In a new sauté pan, heat 1 tbsp of oil and cook onions with a dash of salt over medium heat, stirring often. Once onions are translucent, add tomatoes and stir. Cover the bottom of the pan with onions and tomatoes.
Place the catfish over the onion mixture and cover. Reduce heat to low. As the onions and tomatoes cook down, be careful not to burn. Once fish is completely cooked and firm, remove pan from heat and add cilantro. Serve up hot and enjoy!
Goes great with some "dirty rice" or potatoes!