Ingredients: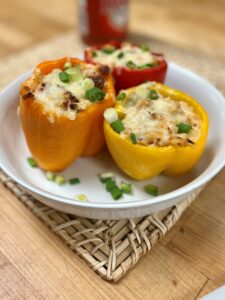 1 to 1 1/2 pounds fresh chicken tenders
Salt and Pepper
1 Pound finely chopped or riced cauliflower
Olive Oil
1/2 Tsp Cayenne Pepper
8oz Softened Cream Cheese
2 Cups Shredded Pepper Jack
1 Bunch Chopped Scallions
1/4 Cup Hot Sauce
8 Peppers, tops removed and seeded
Method:
Boil the chicken until tender- about 30 minutes. In a large sautee pan, heat the olive oil and sautee the cauliflower with salt and pepper and cayenne. Sautee for about 10 minutes, or until softened.
In a large mixing bowl, mix together the chicken, cream cheese, cauliflower, scallions, cheese and hot sauce with a hand mixer. Scoop in the chicken mixture into the peppers until full. Bake at 375 degrees for about half an hour. Peppers should just start to wrinkle. Top with additional cheese if wanted.
Serve and enjoy!