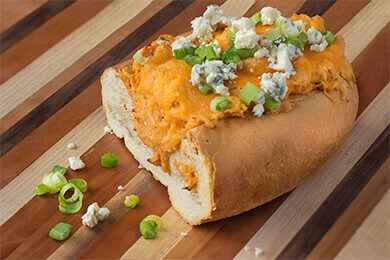 Ingredients:
2 Pounds Chicken Breast
1 Cup Hot Sauce
8 Oz Creamcheese
1 1oz Ranch Seasoning Packet
8 oz Blue Cheese Crumbled
1 Cup Cheddar Cheese
1 Loaf Fresh Italian Bread
2 Scallions Chopped
Method:
Boil Chicken Breast and shred. Add cream cheese and ranch and place in a mixer and combine. Add hot sauce and blue cheese.
Remove the top of the bread and scoop the chicken inside. Top with cheddar cheese.
Toast in oven at 350 degrees for 20 minutes. Cheese should be melted and bubbly.
Remove from oven, top with scallions and slice to enjoy!!!