Buffalo Chicken Meatballs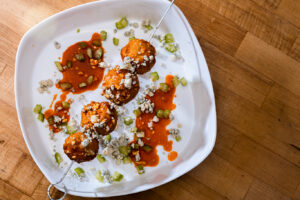 Ingredients:
2 Pounds Ground Chicken
1 Sleeve Ritz Carckers
1 Cup Shredded Pepper Jack Cheese
1 tsp Cayenne Pepper
1/2 tsp Salt
1 16oz Bottle Buffalo Sauce
Blue Cheese Crumbles
Method:
Ground up the crackers until fine. In a large bowl, combine the cracker crumbs, chicken, pepper jack and seasonings. Add about 1/2 cup of the hot sauce. Form into meatballs and place on a baking tray. Bake at 350 for 15-20 minutes.
Transfer meatballs into a slow cooker and pour over the remaining sauce and sprinkle with blue cheese. Cook on high for one hour and hold hot for serving.
Enjoy!