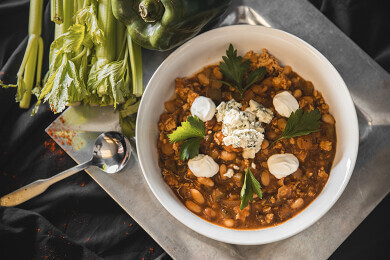 Ingredients:
1 Pound Ground Chicken
1 Green Pepper, Diced
1 Yellow Onion, Diced
2 Celery Sticks, Diced
2-3 Garlic Cloves, Minced
1 Tsp Cumin
1 Tsp Paprika
1 Tsp Chili Powder
1 Tsp Powdered Garlic
1 Cup Chicken Broth
1 Cup Water
1/2 Cup Frank's Hot Sauce
1 16oz Can Re-fried Beans
1 15oz Can White Beans, Drained
Blue Cheese for Topping
Sour Cream for Topping
Method:
Brown the chicken in a little olive oil, breaking up the meat. Remove the chicken once fully cooked. In the same pot, place the veggies and spices. Cook over high heat for about 5 minutes, stirring often. Add in the chicken broth and water. Bring to a simmer and reduce the heat.
Simmer for about 10 minutes, until celery is tender. Add back in the chicken along with the hot sauce, and beans. Stir to combine and bring to a simmer once again.
Serve with sour cream and blue cheese crumbles.