Simple. Delicious!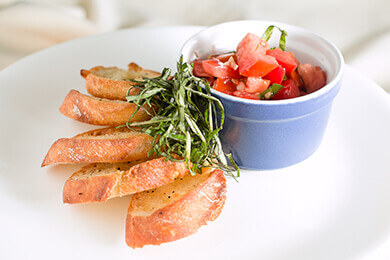 Ingredients:
About a pound of plum tomatoes
2 Garlic Cloves Minced
2 Tbsp Basil Chopped
2 Tbsp Olive Oil
1 Tsp Balsamic Vinegar
1 Tbsp Salt
1 Tsp Black Pepper
Method:
For the crostini, slice a baguette into thin slices. Brush with olive oil and sprinkle with salt and pepper. Toast in oven at 400 degrees for about 10 minutes
Chop the tomatoes and toss with the rest of the ingredients. Let stand at room temperature for at least an hour. Serve with the crostini, or use the bruschetta as a topping for chicken, fish, or steak!